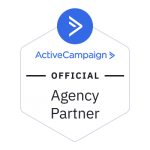 ActiveCampaign is an advanced and user-friendly integrated marketing solution tool, especially for small-sized enterprises. With its powerful functions like CRM & sale management, data integration, machine learning allow enterprises to conserve resources, engage and establish connections with potential customers, gain insight for business ideas, and create sales revenue. Find out how digiEasy enhances your business's performance with ActiveCampaign.
ActiveCampaign's Automation
In ActiveCampaign, Marketing Automation can handle details of your marketing campaign based on your objective, allow you to handle stuffs that are more matter. In ActiveCampaign, you can integrate and manage different platforms' marketing activities, include website's promotion, email, search ads, display ads and social media, to coordinate the whole marketing campaign. Also, ActiveCampaign allows you to automate marketing activities like abandoned cart emails, event reminder, Facebook ads by an Automation Map easily, to schedule and adjust where and when those activities need to happen. Contact us to begin your first marketing automation journey.
ActiveCampaign's Deep Data Integration
For Deep data integration, ActiveCampaign can consolidate historical cross-platform data and combine them with real-time data to develop a predictive customers model report to provide the foundation for your marketing automation development. After our audit, you can make sure your content are useful for your target customers and thus maximizing the return on your advertising investment. Let our digital marketing experts develop a data-driven campaign that fits your company and the environment of the Hong Kong market.
ActiveCampaign's Email Marketing
Nowadays, only grouping people and divide them into segments is not enough. People like to have a personalized experience, in ActiveCampaign, the system can create a unique message to each contacts and offer tailor-made email content based on their interest. Reach digiEasy to try the new way of email marketing powered by ActiveCampaign and boost revenues by sending more personalized emails.
ActiveCampaign's Lead Management
In ActiveCampaign, you can gain higher sales revenue by a prioritized customers list through Leads Scoring. Our team can help you develop a smart list to identify the highest priority leads who are more likely to turn into actual customers. Our solution ensure you (or your sales team) can focus on the most likely closing deals, as well as handling the rest of leads via the ActiveCampaign CRM.
ActiveCampaign with Facebook Ads
Facebook lead ads can reach the specific type of audiences who will pay attention to your ads. The native integration of ActiveCampaign and Facebook Custom Audiences can help to push ads via Facebook lead ads. When your audiences started to pay attention to a specific topic, ActiveCampaign can base on customers' interests, search records, geographic location data to make sure the right ads is showing to the right audiences automatically.
ActiveCampaign's Real-Time Conversation
In ActiveCampaign, you can add a chatbot on your site, which can help you engage with leads or customers who are looking for help. This feature collect visitors' information and once data is collected, a contact is immediately generated, and ActiveCampaign can start your programed marketing activities such as sending follow-up emails automatically.
ActiveCampaign's Tracking
ActiveCampaign provided several ways to track visitors' behaviour in your website. Site and Event Tracking can tell the trend about which of your products or services visitors are most interested in. The system can help you track actions and feeling after people received your messages in your site. You may utilize the result and improve your marketing automation process, thus optimising your whole marketing campaign.
ActiveCampaign's Integration
Team up with the tools that you are using for your business, such as Facebook, Shopify, Salesforce, Google Contacts. ActiveCampaign can connect with 280+ applications, enroll them into your ActiveCampaign system to automatize your marketing activities completely. For instance, team up with your Gmail account to add contact's CRM records from your inbox and track sent emails' status, and ActiveCampaign will conduct follow-up marketing activities automatically.